Ever have one of the things happen in your life that completely challenges your belief in something you had taken for truth?
I have. For me, it was a cheeseburger, and it changed my entire concept of author websites and book marketing.
But, before I go into the details of why that burger had such an impact on me, let me ask you three quick questions:
How much do you spend each month in advertising your books?
How do you use your email list?
What role does your website play in your overall book marketing plan?
Let those three questions swirl around in your mind a bit and I'll tell you about this cheeseburger.
A Mouthwatering Change of Perspective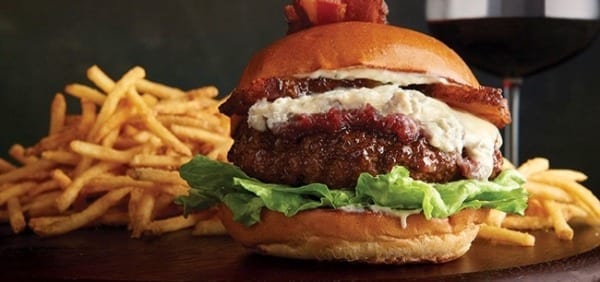 I was managing a website for an author who was pretty up and coming, and his website was humming along at a normal pace. He wrote blog articles occasionally, and usually about craft – characters, plot, that kind of thing. He spent a lot of time marketing on social media (very common at the time) and had just started growing his newsletter.
One day, though, he broke from the mold and wrote a loving homage to a cheeseburger. He was a bit of a foodie and fine dining was definitely an element in several of his books. But, he had never written about food on his website before. I saw it, read it, and shared it.
Within a few short hours it had become the most read thing on his website by a factor of 10.
It was an aha moment for both of us.
From that moment on, his blog went in a very different direction. His overall stance regarding his website went in a very different direction. Within the year he had dramatically increased his audience, built a much more powerful connection with his readers, and had sold more books through his blog than his newsletter.
As for me, I started looking at author websites in an entirely different way and that experience formed the basis for the industry leading book sales architecture ModFarm uses today.
Readers Are More Interested In Your Blog Than Your Newsletter
Content marketing isn't a huge thing in the Author marketing world, even though it is used extensively (and successfully) in many other arenas. The predominent website strategy for authors is a fairly minimal website that puts a huge emphasis on growing an author's newsletter, a strategy buoyed by the belief that readers aren't interested in website content.
The reality, though, is that readers are a lot more interested in an author's blog than they are in their newsletter. Three and a half times more interested, actually.
How do we know this? By tracking the data.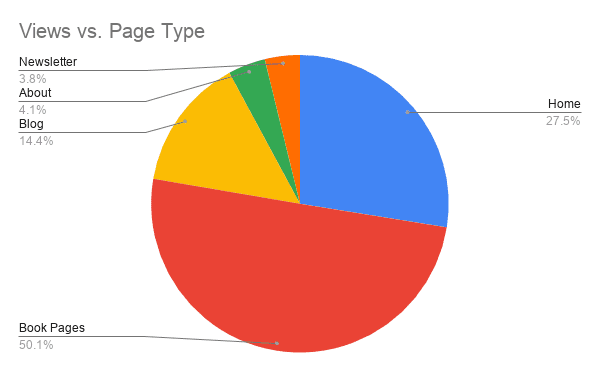 For over a year we tracked which pages readers visited across all of our author sites, and the results were illuminating.
You can see from the data above that 14% of visitors go to the blog or a blog post and just under 4% go to the newsletter sign up page, even in light of intense promotional efforts.
Readers don't come to your website just for the opportunity to get a free book. Those pushed straight from social media might be coming for that, as a result of the significant amount of advertising and pushing of free books on those platforms, but the other 75% are looking for something else.
To start selling books without a massive ad spend, it is essential to understand how and why readers are seeking you out.
What Brings Readers To An Author's Website?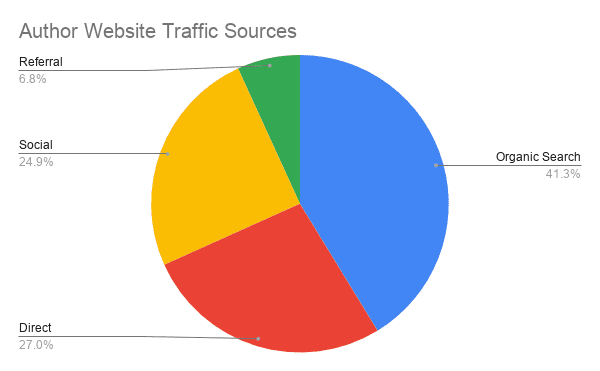 The most significant entrance gateway to an author's website is organic search, a majority of that from Google, but a smidgen from Bing and DuckDuckGo. Whether the reader searched for your name, your book, or something else, the mechanism that brought more than 40% of them was search.
The second largest at 27% was direct traffic, and this is usually people who have been to the author website once before, know the URL, and now come back on their own without needing to search or be referred.
Third is social media – Facebook, twitter, instagram and the like.
Last is a direct referral from another website. This is things like book bloggers or publishers, but can also be a similar website – historians, survivalists, etc. Websites that have a common subject matter interest to the authors and had a reason to refer a link, such as an article or a resource citation. In our case, 100% of these direct referrals was to a blog post.
New Tools And Techniques
Way back when blogging started, it was largely personal journals on the web. The term itself is a shortened slang version of "Web Log" and it hails back all the way to the DOS days of the early nineties.
Publishing on the web has come a long, long way since then. Pioneered by a slew of "mommy bloggers", "fitness bloggers", and hardcore marketing services like Copyblogger, Duct Tape Marketing, Unemployable, and many, many others.
These professional content marketers invested in tons of new and powerful tools over the last decade that have tremendously increased the outreach and distribution capabilities available to anyone with a website.
And these methods can make a huge impact on both the effectiveness of an author's marketing as well as the cost.
How Modern Blogging Can Help Authors
Moving from personal blogging to content marketing comes down to these basic principles: Value, Search and Syndication.
Those principles are a big part of what this series of articles on Author Blogging is going to be about. Because when you get these principles correct, you can gain control over more than 90% of what drives people to your website – and you'll be able to do that for FREE.
If authors don't provide articles of value, no one is going to read it or search for it. What a writer writes about is important – and I can give you a hint right now, anything to do with characters, style, or craft is extremely low value for readers (and other authors as well).
If the article you write on your blog isn't picked up and cataloged by search engines properly, it won't do much good, either. Same thing for social media. Good news is, there are plenty of free or low cost tools to help with that, and they are easy to use.
And, if you don't leverage your social media and newsletter to distribute and syndicate the content you are creating across your website and other channels on the web (Podcasts, YouTube, etc), then you are really selling yourself short.
Content Marketing For Authors
Remember those three questions I asked you at the beginning of this article? Now that you've had a chance to think about them, let's give them a little twist:
If you saved 20% of your advertising spend each month, how much would that be?
What does the average email you send to your many subscribers look like? What kind of response do they get?
Do you feel your author website contributes to your book marketing plan? Why or why not?
At Modfarm, we do more than just build author websites. We stay for the long term to help authors get the most from their website, using taxonomy and automations to transform their website from a static display to a dynamic marketing engine.
This free five part series will walk authors through the process of using the same modern content marketing techniques we utilize at ModFarm to increase their site traffic, increase their sales, and reduce their ad spend. We'll be covering the following topics:
How To Provide Content That Engages Your Readers
How To Maximize Podcasts and YouTube
How To Turn Content Into Sales
How To Supercharge Your Newsletter
You can get started right now with Part 1: Setting Up The Editor.
The elements and techniques contained in this content marketing series are the same as those we set up for our author clients at ModFarm and is part of our "Marketing Hub" concept for website design.
If you want to get more from your online platform, reduce your ad spend, and improve your relationship with readers, consider having ModFarm manage your website.